Winter Driving in Mississippi During the Colder Months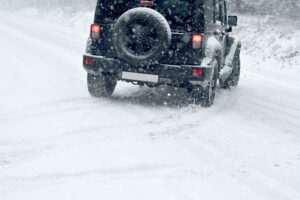 Mississippi is fortunate: Snow rarely dumps on its roadways. It means that driving in snow is rarely something that local drivers face.
But that doesn't mean that they are impossible. It also doesn't mean that winter driving in Mississippi doesn't come with its own challenges. Roads can freeze and become slick. Even a light dusting of snow can make it more difficult to stop suddenly.
And if you're not willing to learn how to drive in winter, you might need to call upon a Canton car accident lawyer following a fender-bender or other highway mishap.
Common Mistakes in Winter Driving
The attorneys at Blackmon & Blackmon PLLC have seen plenty of winter driving mistakes. Some of the more common? Many drivers follow others too closely after roads ice up and become slick.
Yes, Mississippi is blessed with warm temperatures during most of the year. But in winter, these temperatures can drop below freezing. That can cause sliding and rear-end collisions when motorists who don't know how to drive in winter conditions tailgate.
Another common winter driving mistake? Mississippi drivers might drive too fast in freezing conditions. Higher speeds make it more difficult for motorists to stop quickly enough in winter driving. We have seen far too many winter accidents caused by drivers who didn't slow down while driving in snow or other winter conditions.
One more big mistake? Distracted driving. Distracted driving is always dangerous. Concentrating on the road while driving in winter is even more important. Don't answer texts, make phone calls or eat while driving in winter; rather, stay focused on weather conditions and possible hazards.
Safety Tips for Winter Driving
Leave early: When roads ice up or when snow falls, traffic often grinds to a halt. Don't let this frustrate you. Instead, leave early, so you have plenty of time to reach your destination. Doing this means you'll be calmer on the road and less likely to make winter driving mistakes.
Slow down: Be aware of roadway conditions. If highways and main streets are slick? Drive slower, even if it means traveling under the posted speed limit. It's more difficult to suddenly stop when ice covers the roads. If you want to avoid rear-ending that driver in front of you, slow down when driving in snow or under slick conditions.
Keep that wiper fluid full: Make sure to fill your windshield wiper fluid before hitting the road. Icy rain or snow can reduce visibility. You'll need plenty of wiper fluid to keep your windshields clear, especially if you are traveling a long distance.
Think about snow tires: You might ask, "Can I drive summer tires in winter?" A Canton car accident attorney would say that it is possible. Under most conditions, you won't need snow tires, but you might consider them if the forecast calls for especially dire winter driving conditions.
Consider equipping your car with snow tires, too. Though not necessarily needed in a warmer-weather state like Mississippi, snow tires can provide extra traction when driving in snow or during winter driving in general.
It's always smart to keep an emergency kit in your car. This kit should include warm blankets, bottled water, a flashlight, a winter coat, an ice scraper, packaged food, a phone charger, and a reflective triangle. This way, if you get into an accident, you can keep safe while waiting for emergency personnel, and it can help, too, if your car's battery dies and you are again waiting for help.
Got into a Car Accident in Winter?
Mississippi drivers might think they'll never need to learn how to drive in snow because Mississippi is spared the kind of winters drivers face in the Midwest and Northeast portions of the country. But don't be fooled: Winter driving can prove challenging in our warm-weather state. That's why learning how to drive in winter is so important.
Auto accidents happen more often, and the increased chances of winter driving accidents mean that you might actually need the help of a Canton car accident lawyer. If you have been involved in a winter driving accident and need legal assistance, contact Blackmon & Blackmon PLLC, we're glad to help.